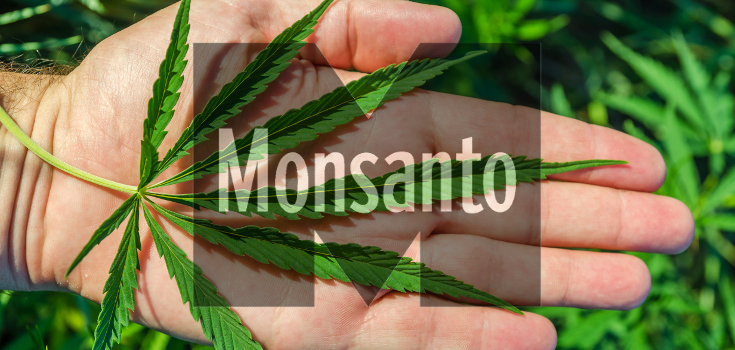 Editors Note: I, by no means, am defending Monsanto Corp. I am in total opposition to the products created by the Monsanto Corp. and am not in no way advertising nor am I endorsing the use of genetically modified products.
Has Monsanto just developed into the very first company to patent a strain of genetically altered pot?
That's what a repeated Internet tale implies. "Monsanto Creates First Genetically Modified Strain of Marijuana!" published World News Daily Report 2 weeks ago.
However unlike Before It's News, depending on the contributors you choose follow, hint hint, World News Daily Report is a Bogus news website. "Don't be fooled," stated About.com's Urban Legends specialist David Emery, who subsequently quoted from the World News Daily Report's warning page:
"All characters appearing in the articles in this website – even those based on real people – are entirely fictional and any resemblance between them and any persons, living, dead, or undead is purely a miracle."
But in posting this scam, World News Daily Report is simply capitalizing on what seems to be a common urban legend.
And of course a mass of Youtube videos followed suit;
https://www.youtube.com/watch?v=OP_pyJUvptc
To view more of the misinformed "Sheeple" who have bought into the HOAX, go to Youtube and search GMO pot.
In 2013, Tracy Glesz-Ramsay published in Cannabis Culture magazine,
"Monsanto, Syngenta, BASF, Bayer, Dow and DuPont have … developed a keen interest in this still-illegal plant as well."
This past year, Israeli agribusiness BreedIT cited the urban legend as truth in a news release that was then republished extensively.
Not one of these articles or blog posts refer to sources, and a MintPress hunt of public patent databases turned out ineffective. Monsanto marijuana is an urban legend, much like the perception that Marlboro is creating mass-produced marajuna cigaretts available for purchase.
It is so well-known that Monsanto even debunked the fairy tale on their own internet site:
"Monsanto has not and is not working on GMO marijuana. This allegation is an Internet rumor and lie."
Urban legends like these reveal a growing understanding that cannabis is turning out to be big business – and that understanding is based in fact. With the achievement of legalization initiatives in states like Colorado, hundreds of small business from dispensaries to chefs have made huge sums of money on marijuana. These achievements have even captured the interest of larger companies as well.
In 2011, the Wall Street Journal's Dana Mattioli noted that Scotts Miracle-Gro Co. expected to focus on the medical pot industry.
"I want to target the pot market. There's no good reason we haven't," stated Scotts Chief Executive Jim Hagedorn.
The Scotts Miracle-Gro Co. is the renowned marketing expert of Monsanto's Roundup weed-killer for the North American customer sector.
Monsanto is investing intensely in unique agricultural technologies, which includes a 2013 $1 billion buy-out of agtech startup Climate Corp. Additional agricultural startup investments have dedicated to cannabis. In February, Snoop Dogg introduced the introduction of a $25 million marijuana enterprise capital fund. Privateer Holdings, an additional cannabis investment fund, has connections to Bob Marley's family members and was fairly recently valued at $425 million, with holdings in companies like Leafly, which TechCrunch named "a Yelp for pot."
Monsanto and marijuana do have one other, real link: Fezisa Mdibi, authoring for Africa's Mail & Guardian, claimed last month that law enforcement in South Africa used Kilo Max – an herbicide structured on glyphosate, the chemical Monsanto created for use in Roundup – to eliminate cannabis fields cultivated by traditional farmers, who call the herb "dagga."
Neighboring communities discovered their "maize fields destroyed and people complaining about falling ill" after law enforcement officials dispersed Kilo Max.
Increasing proof indicates glyphosate can be associated to cancer, as well as a current investigation by the WHO (World Health Organization).